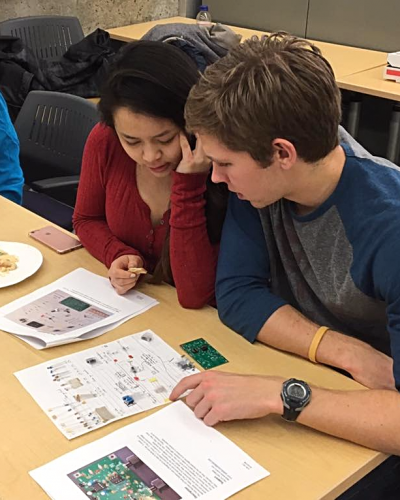 Yale School of Engineering Senior, Han Zhang, KC1GTO, led members of the Center for Engineering, Innovation and Design in a radio receiver kit building session last night.  The event, attended by over 20 members of the CEID, began with a lecture by Han on the fundamentals of ham radio, how a basic radio receiver works, and a tutorial on soldering and kit building.
Students then paired off to build the Easy Receiver 40 meter direct conversion receiver kit offered by Pacific Antenna.  W1YU thanks KA5DVS, James Bennett of Pacific Antenna for offering a student discount on the kits, helping make last night's event possible.
After CEID members completed their kits, W1YU president Scott Matheson, N3NFP, aligned each receiver to 7.250 MHz using his Elecraft K3 transceiver.  Students were excited to hear the squeal of their radio's oscillator during alignment.  After alignment, each receiver was tested as W1YU vice president, James Surprenant, AB1DQ, transmitted weak signal code using his Yaseu FT817 QRP transciever connected to a Buddipole antenna set up in the lab.
Scott explained to students how they will be able to use their newly built receivers to tune to Morse Code signals on the 40 meter band, or connect their receivers to their computer sound cards to receive digital transmissions.
Also in attendance from W1YU was club Vice President for Digital Media, Kurt Heumiller, KB2ZUZ, who assisted students with the build and offered trouble-shooting services (largely unneeded), and W1YU Trustee, Monty Shepardson, KB1TXM, who assisted in inventorying components to make sure every student received a complete kit to build.
This was W1YU's second CEID event in as many semesters and we look forward to future joint endeavors.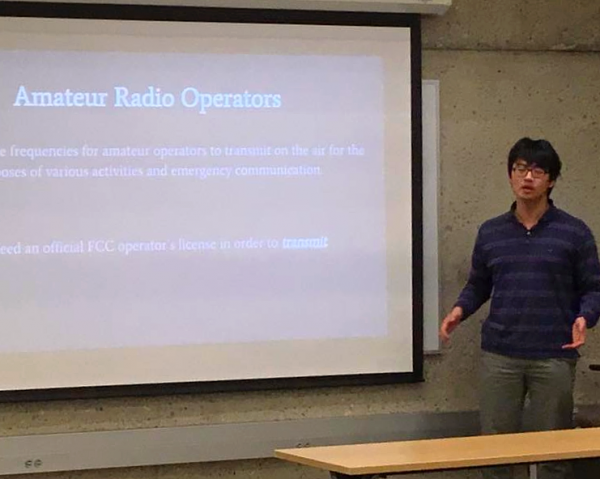 KC1GTO, Han Zhang, provides an introductory lecture on ham radio & kit building.