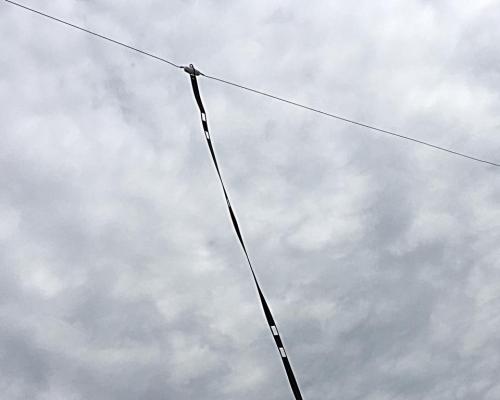 On Sunday, May 21, 2017, W1YU President Scott Mattheson N3NFP and Secretary/Treasurer, Dr. Edward L. Snyder, W1YSM, installed the club's new G5RV antenna on the rooftop of the Graduate Club.  They were assisted by area electrician Mike Pascale.  W1YU 1st VP, James M. Surprenant, AB1DQ was also on hand.
The antenna stretches diagonally across the rooftop of the Graduate Club and is anchored to two of the building's chimneys.   The G5RV design was engineered by Louis Varney (G5RV) in 1946.  The design is a basic dipole with 15.55 m elements, fed by 8.84 meters of impedance-matching symmetric 300 ohm ladder line.  With use of a tuner, the G5RV is resonant from 80M - 10M.
The club plans to relocate the Diamond X50a antenna used for VHF/UHF FM work to the roof in the near future.