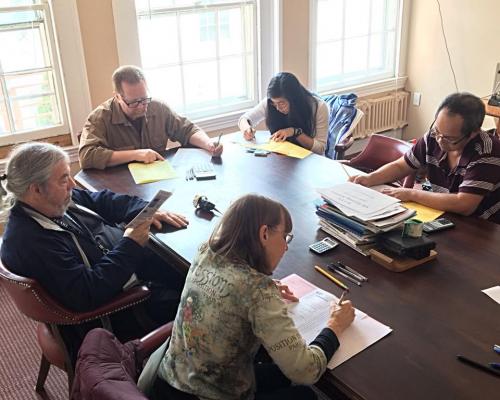 The Amateur Radio Club at Yale University held a spring term Volunteer Examination (VE) session this past Saturday, 03 March 2018 at the W1YU headquarters at The Graduate Club in New Haven.
Six candidates sat for exams and all six passed their respective exams; the session yielded three new Technician operators, while two Technicians successfully upgraded to General class and one candidate upgraded from General to Amateur Extra.
W1YU congratulates Yale undergraduate students Seamus Joyce-Johnson KC1JFP and Betsy Li KC1JFO who both passed Element 02 to earn their Technician licenses, as well as Anthony Pamplona KC1JFN.    Mike Furlo, KC1IHA and LeRoy Kidd, KC1IGV who  earned their Technician licenses at the W1YU VE session last semester, both passed Element 03 on Saturday to upgrade to General and Brenda Brown, AC1EJ (former KC1EEO), earned her Amateur Extra successfully passing the Element 04 exam, missing only one question.  Congrats all!
Saturday's VE session was preceded by a five session exam review session in the two weeks leading up to the exam date.
Thanks to all of the VEs who took the time last Saturday to staff the testing session:  AB1DQ, James M. Surprenant; N3NFP, Scott Matheson; W1YSM, Ed Snyder; AA6E, Martin Ewing; and K1RSU, Rich Pizzoferrato.   Volunteer Examiners K1LYP, John Yusza and KB1JL, Eric Olsson , visiting from the Meriden Amateur Radio Club, were also on hand to assist.